Good morning! Look at Pablo's accomplishment so far at Boys State.
Velasco-Moya of Brinkley elected to city office at Arkansas Boys State
May 31, 2022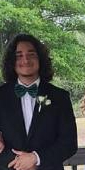 Pablo Velasco-Moya of Brinkley from Brinkley High School was elected to Mayor for Kerr City at Arkansas Boys State 2022, a summer leadership and civic engagement experience sponsored by the American Legion.
Velasco-Moya was elected by his peers during city elections on Monday, May 30, as part of the 81st annual session of Arkansas Boys State, where students build a mock government structure, including sixteen different mock cities each with their own city council, vice mayor, and mayor.
"City elections lay the groundwork for the rest of the week at Arkansas Boys State," said David Saterfield, director of instruction for Arkansas Boys State. "From here, Pablo will lead citizens in his city as they navigate simulations and city problems, working as their representative to develop and advocate solutions for their community this week. This is just the first step in the transformative leadership journey that students embark on this week."
Velasco-Moya is one of more than 400 students from throughout the state attending Arkansas Boys State at the University of Central Arkansas in Conway. Students are mock citizens in eight different counties, sixteen cities, and two political parties.
"When the week comes to a close for Pablo, he and his peers will have learned what it means to intentionally and thoughtfully share their stories, lead their peers, and advocate for their communities," said Lloyd Jackson, executive director of Arkansas Boys State.
County elections were also held on Monday at Arkansas Boys State. On Tuesday, students will run for the House of Representatives and Senate and begin campaigning for statewide office.
Sincerely,
Mrs. Wein